The most fuel-efficient Chevy is the 2022 Chevy Spark, which returns up to 38 highway mpg. Need a little more cargo space? Consider the 2022 Chevy Trailblazer, which boasts up to 33 highway mpg. There are so many fuel-efficient Chevy vehicles in our lineup, so visit our Chevrolet dealership in Tyler to find yours. Plus, when you buy an eco-friendly Chevrolet in Texas, chat with our Chevy finance experts about incentives that could save you big on your purchase or lease. Don't wait to schedule a test-drive at Peltier Chevrolet!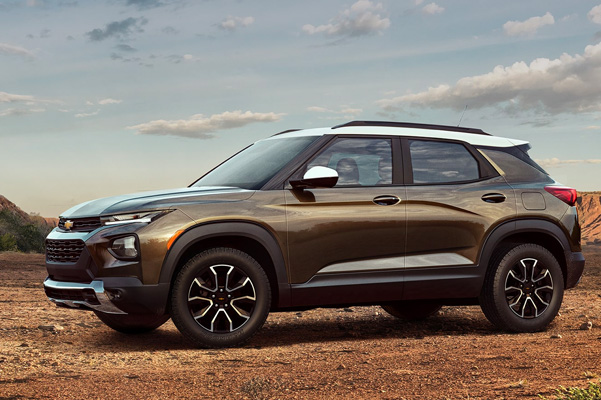 Fuel-Efficient Chevy Models in Tyler, TX
Upgrade your daily drives in the most fuel-efficient car on our lot today! Compare new Chevy models to find the vehicle that's best for your lifestyle. Want something that can fit the whole family comfortably, without sacrificing fuel economy? Consider the 2022 Chevy Equinox, which returns up to 31 highway mpg. Or maybe you'd like a new Chevy sedan that's a blast to drive? Opt for the 2022 Chevy Malibu and benefit from up to 36 highway mpg. There's something for everyone at Peltier Chevrolet, so don't wait to visit us and choose your top pick.
Need a Chevy truck that can tackle tough jobs without breaking the bank at the gas station? You'll love the 2022 Chevy Silverado 1500, which offers plenty of power for any rugged task at hand, all while returning up to 22 highway mpg. Impressed? We certainly are! No matter how big or small the Chevy model you choose, you're bound to find a fuel-efficient Chevrolet that you'll love for many miles and years to come.
Compare Chevy MPG Ratings
| Model | Highway Fuel Economy |
| --- | --- |
| 2022 Chevy Spark | 38 mpg |
| 2022 Chevy Malibu | 36 mpg |
| 2022 Chevy Trailblazer | 33 mpg |
| 2022 Chevy Trax | 32 mpg |
| 2022 Chevy Equinox | 31 mpg |
| 2022 Chevy Blazer | 27 mpg |
| 2022 Chevy Traverse | 27 mpg |
| 2022 Chevy Colorado | 25 mpg |
| 2022 Chevy Corvette Stingray | 24 mpg |
| 2022 Chevy Silverado 1500 | 22 mpg |
| 2022 Chevy Suburban | 20 mpg |
| 2022 Chevy Tahoe | 20 mpg |
New Chevy EVs for Sale near Me
Want to skip the fuel pump altogether? Check out the incredible Chevy EV lineup and opt for a zero-emissions vehicle that offers convenience and savings. Whether you preorder a Chevy Silverado EV truck, buy a 2022 Bolt EV in Texas, or elevate your daily drives in a new Bolt EUV, there are plenty of all-electric Chevrolet options to choose from. Curious about the Bolt EV range or Bolt EUV dimensions? Chat with the team at our Tyler Chevy dealer and we'll walk you through all the details, plus, we'll explain EV tax incentives and more. Compare Chevy EV models and review range below:
| Model | Driving Range |
| --- | --- |
| 2022 Chevy Bolt EV | EPA-estimated 259-mile range |
| 2022 Chevy Bolt EUV | EPA-estimated 247-mile range |